Due to an unfortunate meeting of a vase of flowers and my laptop, in lieu of an outfit post, this morning I present you with a new concept: What I Wish I Were Wearing.  "Wish", rather than "actually wearing" because somewhere along the line fate decided not to hand me reckless amounts of disposable income for no purpose other than buying every single item of expensive clothing I coveted, ever. Just a sampling of some of the looks I'm loving follow below:
1. Overalls
Unfortunately (fortunately?) I'm still not done being ten yet.  And with the recent resurgence of overalls, overalls have become even more appealing than they were ten years ago.  The difficulty I've run into is that there is a fine line between chic overalls made for grownups, and overalls made for an overgrown kid /a character from Tom Sawyer.  Gap had a great version a while back, but in further proof of how great they were, they sold out before I could take the plunge. Alas.  Until I find another suitable version, I suppose I'll be stuck wearing shorts like a normal person.
2. Bermuda Shorts
Bermuda Shorts, via The Man Repeller
No, I really wasn't kidding when I said I wasn't done being ten.  I actually think the last pair I wore might really have been when I was ten.  They were also likely from Old Navy, and pulled up to my natural waist and paired with an Abercrombie button up polo, fully tucked in of course.  Don't ask, I was severely ensembly-challenged as a child (10 points to anyone who catches the reference).  Anyway, the ones shown above, perfected by Philip Lim, look simultaneously hella-awesome and hella-comfortable, two things that any and every look should strive for.
3. Hot pants
Balmain hot pants, via Style Tao; Madewell Fall 2012
Although at first glance these may appear inappropriate to wear in a public setting, consider this: We are currently in the midst of a heat wave, and these are called hot pants.  It's in the name. I love the tough leather Balmain ones paired with a loose tank top, even if the fact that they are leather and leather + 90 degree heat do not mix pleasantly negates the entire point of donning hot pants to begin with. I especially love Madewell's iteration with a button-up, although it is ultimately unwearable because, see above, the current heat wave renders anything with sleeves out of the question.
4. Haider Ackermann Brocade Oxfords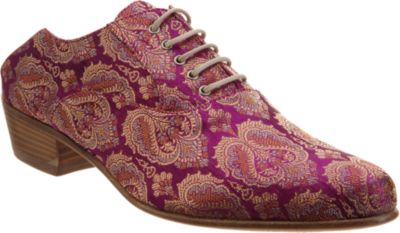 Haider Ackermann Brocade Oxford
And lastly, these shoes.  They are literally tapestries for your feet.  So, I guess technically you could classify them as both a clothing expense and an investment in art.  And really, can you put a price on shoes that serve as art and footwear?  Barneys New York did, and it's $319.
So, what looks are you dying to wear?  I'm dyyying to know. And from this heat wave.  Did I mention there's a heat wave?